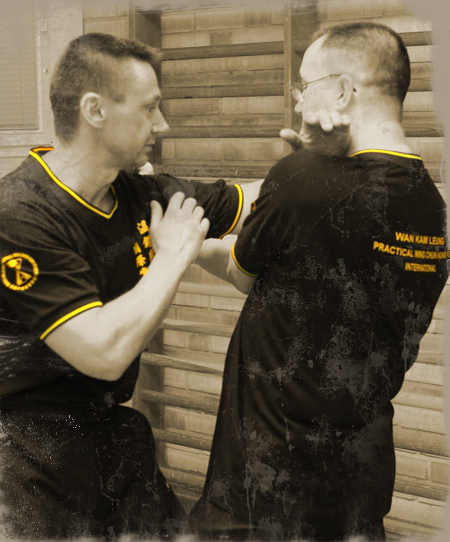 How hard you train is up to each one and to train at their own level. There are some physical training at the club but generally we want to train on our techniques, during our workouts. One does not need to be physically fit and strong but it will always be a benefit to be in a good shape.
What do I need for training?

What do I need for training?
When we practice, we usually use gym clothes in dark colors and indoor shoes that do not leave a lot of marks on the floors. The club has its own gym clothes a T-shirt, a hooded sweatshirt but we have no uniform requirement. Later there will be the official clothing for Wan Kam Leung Practical Wing Chun to order.

If you want to join our club and train with us, visit the contact page for our contact information. We are open for new members to join us regardless of previous experience. We normally don't have beginner admissions semester; we have ongoing admissions all year
All aged 15 and older are welcome, untrained as fit as long as you do not have any serious physical obstacles. The club do not want any visits to the club premises before you have been in contact with us, we do not want visits during our training.

Training Fees
First you pay Bjurhovda gym workout fee then the club fee. The gym fee is 1200 SEK / year and 800 SEK / six months and the tag to the door is included. The club fees is 1400 SEK / year and 900 SEK / semester.

Schedule
Tue: 18.30 - 20.30
Thu: 18.30 - 20.30
Sun: 14.00 - 16.00
The reason we have a long trial period at the club is that you should be sure that you really want to practice this style before choosing to pay our training fees, as we are a small club, we do not have the ability to repay the paid members / training fee. Training fees are to cover the club's expenses and the purchase of equipment.